Lodermeier's is constructing a new steel building for MN Ag Group in Northfield.  These pictures show the start of the foundation in early June, the steel building arriving on the trucks in June, the steel being put up, and finally the steel frame almost completely installed.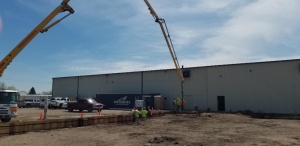 A new 50'x 60'x16′ post frame Horse Barn is being built for Gordon and Jan Hansmeier of Red Wing  
The Pearson dairy farm near Red Wing, MN is adding a new 44'x104'x14' post frame calf barn to their farm.  The pictures show the concrete foundation and floor installation which completes the beginning phases of the calf barn.
A pole shed on the Tatge Farm in Faribault was transformed.  The pole shed was originally built in the early 80's and Lodermeier's recently resided and reroofed the building.