Ag Partners new load out bins were completed late summer.
Here in Goodhue, we are fortunate to have Ag Partners in our community, supporting our local farmers.  Throughout spring and summer the Lodermeier's grain equipment team had been installing some new load out bins that Ag Partners added to their setup in Goodhue. The structure was recently completed by the grain equipment team in downtown Goodhue.  This addition at Ag Partners has the capability to drop thousands of bushels of product at a time.  The addition went into use as Lodermeier's was still finishing up the project.  Ag Partners and the community will all appreciate this new structure!
The North side of the new building
Inside the structure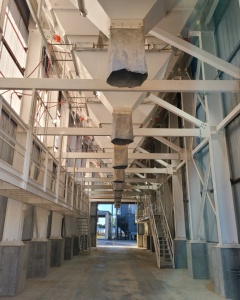 The Southeast side of the new area
 The completed structure!
A FEW MORE PICTURES OF THE CONSTRUCTION PROCESS FOR THESE LOAD OUT BINS